This event, taking place in Brno on 25 April 2019, is a part of the 100th anniversary of Masaryk University and aims at promoting cooperation between the university and the business sector. At the fair, visitors can meet a wide range of possibilities for cooperation with the largest university in Moravia. The program also includes presentations of scientific teams and expert discussion sections.
AMIRES will take part in this event in order to find new potential cooperation opportunities with both Masaryk University teams as well as companies attending the event.
More information can be found here on the event's website – https://www.ctt.muni.cz/en/news/event-calendar/brf2019
Nanomed Europe 2019 (www.nme19.eu) #NME19 is a new and unique conference for scientists, entrepreneurs, industry and clinicians, developing great medical applications based on nanotechnology and emerging MedTech. The event will take place on 17 – 19 June 2019, in Braga, Portugal. NME19 is co-organized by the ETPN, European Technology Platform on Nanomedicine and INL, the International Iberian Nanotechnology Laboratory.
Nanomed Europe 2019 (#NME19) is born from the merge of the 14th annual event of the European Technology Platform in Nanomedicine (ETPN) and of the European Scientific conference EuroNanoMed (ENM). Together, these two major events result in a new and unique conference for the European Nanomedicine community, bringing together scientists, technology providers, entrepreneurs, industry and clinicians. #NME19 is expected to be the largest event dedicated to Nanomedicine in Europe in 2019, bringing together the very best of Nanotechnologies for healthcare and other Emerging Medical Technologies.
AMIRES is looking forward to taking part in this inagural event and finding out about the innovations in the field of nanomedicine.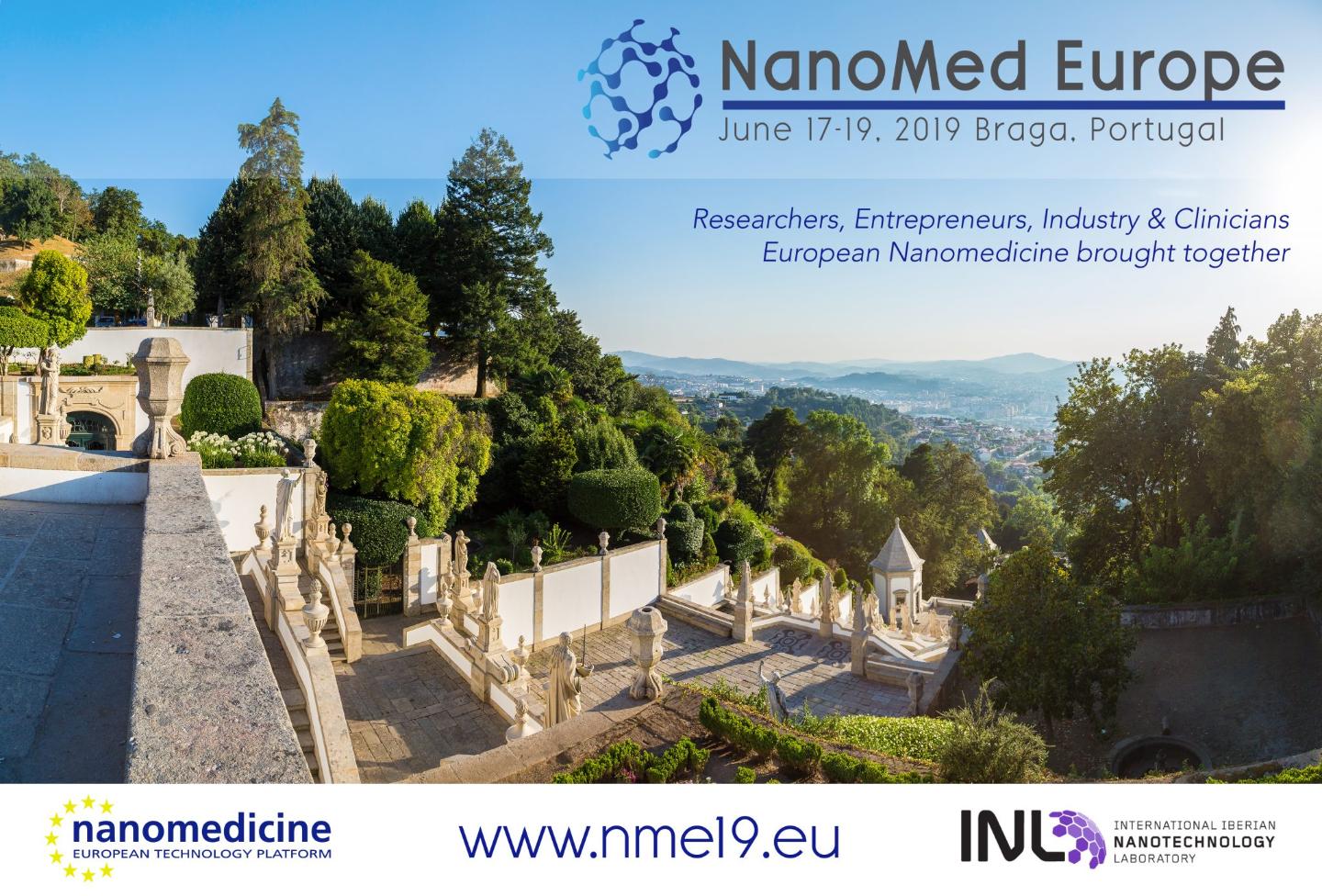 Working Group Nanotechnologies for Regenerative Medicine (WG RegMed) of the European Technology Platform for Nanomedicine (ETPN) in partnership with AMIRES launched a series of webinars, presenting recent advancement of ETPN  members in the field of nanotechnologies for regenerative medicine. These webinars aims to improve know how exchange, identification of key European experts and a wider networking among ETPN members (e.g. for collaborative projects). It is also intended to keep webinars open for ETPN non-members, particularly for industrial companies, to facilitate cooperation between researchers and enterprises (mainly SMEs). Please see below the list of past and upcoming webinars and their details (including recordings of the past webinars).
Upcoming Webinar
Topic
Date
Time
Presenter
Details
To be announced soon
Past Webinars
Topic
Presenter
Link
Polymeric Nanocapsules as tools to face challenges in Regenerative Medicine
Dr. Gemma Vilar, LEITAT Technological Center
HERE
Intervertebral disc regeneration assisted by collagen nanostructures
Prof. Jörg Meisel, BG-Clinic Bergmannstrost Halle
HERE
Extracellular Matrix Analogues for the Pre-clinical Handling and Transplantation of Cells
Prof. Matteo Santin, Brighton Centre for Regenerative Medicine
HERE
Nanofibrous materials – from polymeric solutions to their applications
Dr. Marek Pokorny & Dr. Katerina Knotkova, CONTIPRO
HERE
Application of stabilised FGF2 in wound healing
Dr. Zdenek Rucka, ENANTIS
HERE
Implantable polymeric scaffolds for neural repair
Prof. Maria Letizia Focarete, University of Bologna
Prof. Laura Calzà, University of Bologna
HERE
Selenium nanoparticles and their utilization in scaffolds
Prof. Vojtěch Adam, Mendel University in Brno
HERE
Panbio-electronics 
Prof. Daniel Simon, Linköping University
HERE
H2020 Funding Opportunities for RegMed
Dr. Rudolf Fryček, AMIRES
HERE
BIOPRINTING – Engineering Complex Bioarchitectures to Biomimic Nature: A Step Closer To The Development of Artificial Organs
Marc Thurner, regenHU
HERE