AMIplexus Façade Technology Analysis
Introduction

Research and developmental efforts have been engaged in the race to develop zero energy and carbon free buildings in European cities. Due to the dual impact on both visual aesthetics and energy efficiency, façade technologies have naturally been a point of increasing interest within the Horizon 2020 framework, predominantly in the Innovation Action (IA) and Research and Innovation Action (RIA) sectors. Current technologies under study in H2020 include fluid flow glazing and multifunctional ventilated façades, HVAC and ICT systems, integrated PV and, solid-state perovskite solar cells. Other areas of research are focused on the development of novel biopolymer and composite materials, as well as the establishment of an eco-friendly, efficient manufacturing method for mass production.
Research Focus
Research projects within H2020 have been targeted towards the market introduction and acceptance of an end-product, materials and/or manufacturing process that defines the perfect balance between energy efficiency, environmental friendliness, safety, comfort and cost. Additional desirable properties that would set the standard for future state-of-the-art façade technologies include lighweightness, reduced CO2 emissions, adaptability, high performance insulation, low intrusiveness, reliability and durability. The complete market penetration of these products is, however, currently hindered by limitations such as bulkiness, high costs and insufficient thermal energy conversion efficiency. While the focus is mainly on the development of novel technologies, a few of the projects (e.g. LaWin) plan on developing their products based on already existing platforms to enable rapid market access.
As shown in Figure 1, the largest number of façade technologies projects to have received funding were within the IA and RIA schemes suggesting a clear interest in the advancement of already mature technologies. Expectedly, the largest investments made by the European Union were received by these projects, with only relatively low funds reaching CSA and MSCA initiatives.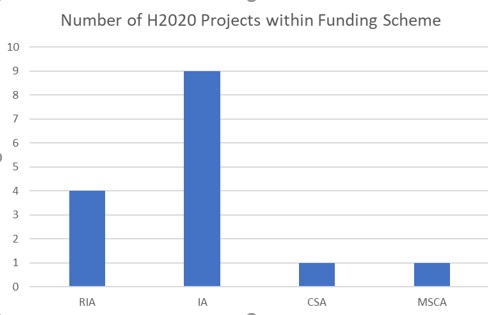 Figure 1. Number of Horizon2020 Projects on Facade Technologies within each Funding Scheme
Key players in this technological area are: FRAUNHOFER GESELLSCHAFT ZUR FOERDERUNG DER ANGEWANDTEN FORSCHUNG EV (Research organisation, Germany), ECOLE POLYTECHNIQUE FEDERALE DE LAUSANNE (Higher Education Institution, Switzerland), Rina Consulting S.P.A. (Private for profit organisation, Italy), NEDERLANDSE ORGANISATIE VOOR TOEGEPAST NATUURWETENSCHAPPELIJK ONDERZOEK TNO (Research Organisation, Netherlands), FUNDACION TECNALIA RESEARCH & INNOVATION (Research organisation, Spain), FUNDACION CARTIF (Research organisation , Spain), YOURISCOM (Brussels), ACCIONA CONSTRUCCION SA (Private for profit organisation, Spain), ACCADEMIA EUROPEA DI BOLZANO (Research organisation, Italy), AGENCIA DE L'HABITATGE DE CATALUNYA (Public body, Spain), SISTEMES AVANCATS DE ENERGIA SOLAR TERMICA SCCL – AIGUASOL (Private for profit organisation, Spain)
Ongoing projects in this technological field:
TRACKWAY

InDeWaG

GOTSolar

PoLaRoll

Q-Air

ESPResSo

BRESAER

BuildHEAT

ABRACADABRA

GELCLAD

4RinEU

Envision

PLUG-N-HARVEST
Past projects in this technological field: