AMIRES IS AMONG WINNERS OF EU DATHATHON 2020
The winners of the EU Datathon 2020 were announced on 15th October on the Digital event during the European Week of Regions and Cities and AMIRES is proud to be among them.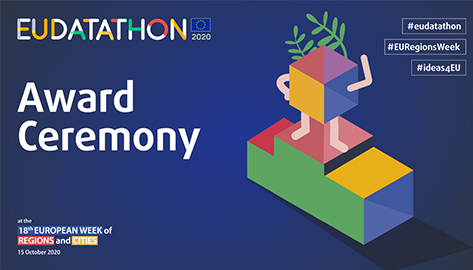 EU Datathon is an annual open data competition organized by the Publications Office of the EU since 2017. The main goal is to stimulate innovation and transform the interaction between citizens and the EU administration. There were four categories according to the challenge to be addressed:
A European Green Deal (Challenge 1),
An economy that works for people (Challenge 2),
A new push for European democracy (Challenge 3)
and a Europe fit for the digital age (Challenge 4).
Our team, consists of John Kennedy Mwangi, Rudolf Fryček, Roman Pašek and Lenka Bajarova, submitted the proposal for the competition by May 3, 2020, for the CHALLENGE 2 and we were selected as one of the 12 finalists from among 121 proposals on May 29th, 2020. Over the following months, we developed the EU4Regions platform and presented it on 15th October on the Digital event during the European Week of Regions and Cities.
Our platform EU4Regions emerged number 2 in challenge 2.  EU4Region, the application created by AMIRES helps identify unknown patterns, causal relations and changes resulting from the injection of EU funds in various regions. It maps the state of cohesiveness and inclusion of EU regions through funding.  The open data from EU CORDIS EU, RegioEvaluation and Eurostat were used to determine whether EU funding is helping our regions. The app should help policymakers adjust financial support. We are grateful to be part of creating new value for citizens through innovation and promoting the use of open data.
Visit our virtual stand addressing Cohesion & cooperation here or watch our final speech below.