Concentrated solar power projects within Horizon 2020
Concentrated solar power utilizes mirrors and reflective surfaces to reflect and concentrate a large amount of sunlight and solar thermal energy and convert it to heat which is in turn used to drive turbines or generators for power production.
In H2020, most of the CSP-related projects are funded within the Research and Innovation Action scheme-RIA (7 projects) and Innovation Action -IA (8 projects) scheme as shown below. This is an indication that major efforts are focused on the advancement of mature technologies. Similarly, a greater proportion of the funding from European Union is directed towards the RIA (35,352,997 €) and IA (55,148,454 €) projects. Other projects with relatively lower funding, are based on knowledge transfer within the Marie Curie Scheme and innovation support among small enterprises within the SME schemes.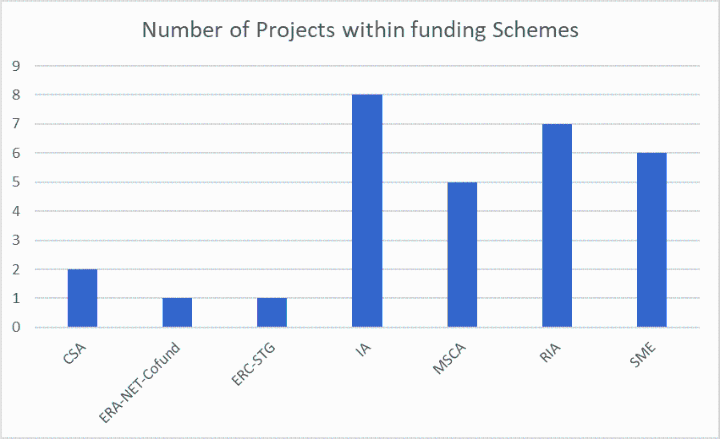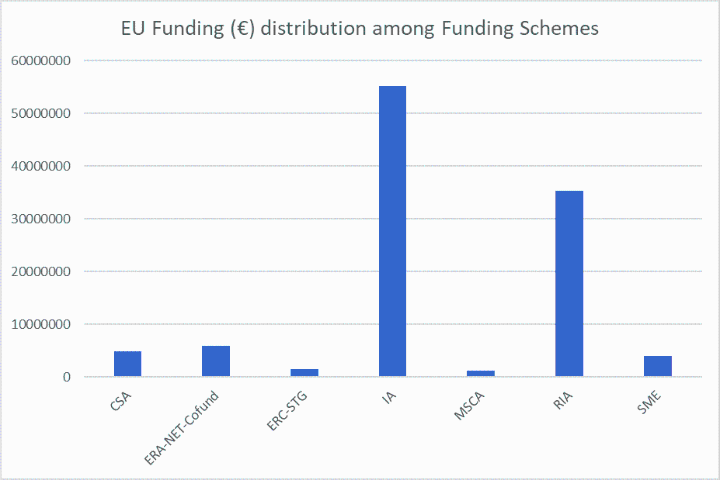 Research efforts within the H2020 framework are aimed at ensuring that CSP becomes more competitive and acceptable in the power-production market through costs reductions and use of innovative materials. To reduce costs, CSP plants are considering plant automation and optimization through machine learning for smart weather forecasting and power dispatch and reduction of water consumption in CSP plants through minimizing water evaporation losses and decreasing the amount of water used for mirror cleaning.
Innovative materials with high reflective capacities are being developed and include protective and anti-soiling coatings of primary reflectors, high-reflective surfaces for heliostats, high-temperature secondary reflectors, receiver coatings for solar towers and line-focus collectors. Materials being developed for thermal storage include corrosion resistant high-temperature metals and coatings for steam and molten salts as well as high thermal performance concrete.
In the H2020 funded projects, the key companies which are active in this technological area are Amires s.r.o (Czech Republic), Laterizi Gambettola SRL (Italy), General Electric Switzerland GMBH (SWITZERLAND), Alstom Power Systems (France), SBP Sonne GMBH (Germany), and Enerray SPA (Italy). Other major entities include CEA (France), Fraunhofer (Germany), Moroccan Agency For Solar Energy SA (Morocco), IRESEN (Morocco), CICe (Spain), CIEMAT (Spain), Electricite de France (France), ETH Zurich (Switzerland), University of Évora (Portugal), Cranfield University (UK), Universidad Complutense de Madrid (Spain), ENEA (Italy), Politecnico di Torino (Italy), Real Instituto Elcano (Spain), and CSIC (Spain). The ecosystem of the organizations, institutions, and companies that are actively involved in the CSP projects within the H2020 framework is as shown in the visualization below: